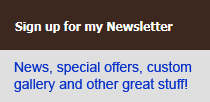 New Arrivals
$40.00 - $42.00
$59.00 - $62.00

Welcome to the home of the Cribbage Guy!
If you're looking for a unique, custom cribbage board you'll treasure for many years, you've come to the right place!
We make all of our boards here in our N. Idaho workshop and by buying directly from the board-makers, you'll not only have a more personal and enjoyable experience, you'll save some money too!
We make most boards to order, and the process currently takes just over a week from when you approve your design.
If you need a board more urgently, please consider a Good-to-Go board that is already complete. We ship these out as soon as they are ordered.
Another option is to purchase a gift certificate which is delivered instantly by email so the recipient can use it to order a board of their own design later.
Our standard cribbage board designs are very clean and simple, with all the holes straight and well spaced, making for easy pegging.

If you would like a custom cribbage board, just ask! Mock-ups are free.

Metal pegs come as standard, and they live in a pocket routed into the back of the board - no more broken or stuck pegs, and no blocked holes!

Remember that Priority Mail shipping within the US is always free. If you live elsewhere, please contact us for a shipping quotation.

Happy shopping!

David & Marty,
The Cribbage Guy, LLC
ACC# ID488