We've always been asked to make cribbage coffee tables ever since we started making boards, and now we've sold over 6,000 regular boards, we think it is time to make cribbage boards big enough to double as coffee tables!
We started by looking around at cribbage tables already on the market. Most are very chunky, or garishly colored, with wooden pegs and no storage options.
We decided that we would specialize in cribbage coffee tables that are classy, made from a mix of fine hardwoods, with metal pegs and storage for cards and pegs. Something that would look right at home in a formal sitting room, as well as in a game room.
We use solid maple, mahogany and walnut, among others. We 'fold' the edges of the wood under, giving a beautiful mirror grain effect. This also adds depth to the table, around 1.5", and strengthens it greatly too. We use glue and nail methods to complete the structure, making for a solid and long-lasting table.
The table top measures 40 inches long and 14 inches wide - plenty of room for pegging and cards.
We use simple, clean and straight layouts. No tiny numbers between holes to distract from the game, or lines around the holes. We assume you can count and can follow a clear path all by yourself!
We've included some engraving too! Maybe a family name, short message or a favorite taunt. It's cut into the wood, not just painted on the surface where it will wear away. Personalization really adds to the pride of ownership and makes for a very personal gift or possession.
If you would prefer two cup holders instead of engraving, we offer that too! Our removable stainless steel cup holders are recessed into the table and hold standard can and bottle drinks.
We pack each table carefully for shipping and all you need to do when it arrives is to unpack it and screw the self-leveling legs into place. No tools are needed to assemble and it can all be done in just a few minutes!
All the outer edges are chamfered and hand-softened, even the corners. We want your board to feel as nice as it plays!
We offer two different heights of legs - our tall legs set the top of the board almost 23 inches off the floor - ideal for tucking your knees under! We also offer a shorter set of legs that lower it to 17". We source the ash legs directly from a specialist manufacturer - we sand and finish each one by hand, and they simply screw into the heavy duty top plates we attach under each corner.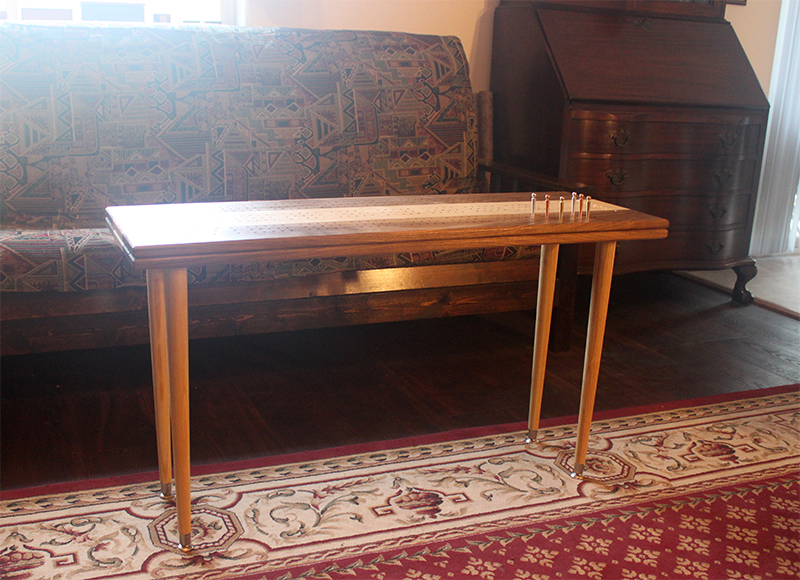 Each board is finished with layers of hand-brushed shellac, making the perfect finish for long term use and maybe the occcasional touch-up, although we expect the board to develop much character as it is used over the generations. Epoxy finishes on competitors' tables may look nice when they're new, but are almost impossible to repair once scratched and refinishing is impossible. As the wood naturally expands and contracts with the seasons, temperature and humidity, it can cause ripples and other issues with epoxy too.
The board uses our two-inch-tall giant metal pegs. They are made of solid metal and will not break and jam up holes like wooden pegs are prone to do. The tapered design makes them much easier to place in the holes than straight shank pegs and the ball top makes grasping easier, especially for those with difficulty.
We include 3 pegs of each color with your table - brass, copper, aluminum and back steel.
Peg and card storage is provided under the engraved, start end of the board. The one-piece solid wood box attaches with a simple magnet, ensuring you have pegs and cards at hand whenever you want to play. No more searching about for lost pegs and hidden cards!
We do have to add shipping to the price of the cribbage coffee tables. We ship by USPS Priority Mail and we insure each table. The price of the shipping is calculated on the checkout page when you put in your shipping destination. Prices vary from $30 locally here in Idaho to around $80 further away.
Canada and the UK are very expensive to ship these to, sometimes $150 - $200.